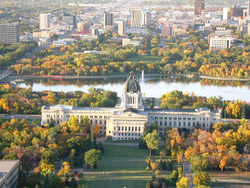 As I wrote on the
Rewards Canada blog
, Saskatchewan is Canada's booming province right now and because of the prosperity being seen it means more direct flights. Last week both Delta and United announced new direct flights out of Saskatoon and Regina to their respective hubs in Salt Lake City, Chicago and Denver. In the past year other direct flights were also started by United out of Saskatoon.
What does this mean to Calgary and YYC? It means the chance of lower numbers of passengers from Saskatchewan connecting through YYC to get to the States, primarily those who fly on the Star Alliance connection of Air Canada and United. Air Canada tends to funnel passengers out of Saskatchewan through Calgary to their own and United's Calgary-U.S. flights. Now residents of Saskatchewan can bypass Calgary with the new direct flights.
Will it be a dramatic drop in numbers? It should not be too significant of drop as the majority of the new Saskatchewan flights are on 50 seat CRJ-200's and some may choose cheaper flight that connect through Calgary (many times flights with connections price out cheaper then direct flights). Nonetheless it could produce as much as a five figure drop in YYC's already declining passenger numbers.